Munchkin is 31.5m and Little Bear is 12m.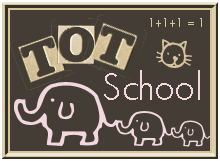 We've been doing Tot School for 3 weeks now and we are going strong. Munchkin looks forward to "table activities" every morning. I try and stick to a weekly routine. It helps me plan and helps to teach Munchkin the concept of days of the week.
Music Mondays - we get out the instruments and rock out... Seriously, we rock.
Totally Technology Tuesdays - Either we explore on the Internet, or they get to use the iPad.
Nature Walk Wednesdays - sometimes I get lazy about getting the boys outside, I make sure we get out and stay out for a good amount of time.
Cooking Time Thursdays (I couldn't think of anything with a TH)- We make something that goes with the theme or letter of the week.
Fun Project Fridays - I actually used to do this in my classroom as a teacher and the kids really looked forward to it. Munchkin loves it too, well he likes anything to do with glue.
Here's our Ss is for Space week.
We put A is For Astronaut and Kitten's First Full Moon in our book basket. I thought Munchkin would love A is For Astronaut with all the great outer space pictures. He instead preferred the adventures of a cute kitten chasing the moon with all black and white pictures... go figure.
I also put together a letter S basket. Munchkin is really into pretend cooking these days and used it to make me lots of pretend meals.
Little Bear was not interested in the strings I cut for him at all. He did love the shake bottles though.
Munchkin had loads of fun dressing in a space costume I made... As you can see he wouldn't slow down for pics.
He also practiced matching planets. This is one of the few activities that he completed start to finish. These print outs are from 1+1+1=1. Carissa offers awesome
printables
which are mostly free.
We also played with a semi-sensory bin. It should have had more items in it, but I only put in stars and black beans. Later in the week I added pom poms for the planets. Both kiddos played with this everyday. I think I'm going to make one for a fall theme.
h
I had to watch Little Bear like a hawk, because of course he wanted to taste things. This is Little Bear after I told him "No Mouth!" lol... I told him again just so I could see the cutie pouty lip. Mean mommy.
Just an FYI, sensory bins can get pretty messy. be prepared with the vacuum or a broom. The beans on the carpet were not too hard to get up. As you can see I tried to keep this activity on paper. Not so much.
For lunch one day I cut Munchkin's sandwich into a spaceship and also made a star from a leftover pancake. Grapes are his favorite fruit (this week) and I almost couldn't get a picture before he had to eat them. Needless to say the S went first.
We cooked Moon rocks. It's just canned biscuits cut into pieces, rolled into balls, fried, and covered with powdered sugar. He of course loved them.
Munchkin had a great time shaking them in the sugar.
For art Munchkin painted with orange and yellow, when it was dry I cut stars and a moon shape. Munchkin likes using the glue stick. Lol... I thought I had black card stock in my scrapbook stash... Turns out he didn't mind it being brown.
Munchkin actually took two seconds out of his very "busy" schedule to work in his Kumon book. He literally has a two minute attention span which I suppose is normal. We managed to complete two pages!
My Tiny Tot. I attempted to get him to put pom poms in the cups. Nope... he prefers to eat them. Oh well. : )
I'm a bit behind on my Tot School posts so look forward to Tt is for Transportation later this week. Check out more Tot School
here
.