Munchkin is 32m, Little Bear is 13m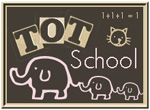 Theme: Fall
Letter: Uu
Word: Umbrella
Color: Brown
Shape: Circle
Number: 21
Last week in Tot School we focused on U is for Umbrella. I didn't find a lot of U or weather books in my stash so we continued to read Things That Go. Munchkin loves this book so he didn't mind. He had a lot of fun using the dot marker i have. I haven't gotten a chance to get the do a dot markers, but I found this bingo marker at the Dollar Tree last week and it works fine. This was Munchkins first experience with a dot marker and he loved it. He really was attempting to get the U's but his aim is a bit off... lol. I got the printable for free from
here
.
We played a fun game I've dubbed "Under" we walked through the house (okay it was when I had some cleaning to do) and Munchkin crawled under things... he had a blast, and Little Bear just giggled in delight at watching his brother be so silly. Unfortunately I wasn't carrying the camera around (cleaning remember?).
I also brought out the stacking blocks I have. When they come out, Munchkin always requests the magnetic letters too. He loves pouring them from container to container. I try to get him to sort the colors into the different blocks but he is totally uninterested in that. Sometimes he serves me up a yummy letter soup as he calls it. I was pretty happy that he was able to correctly put them back nestle them all together in the correct order when it was time for clean up. Usually he asks for my help.
We also played with our wooden color blocks. I am trying to practice AB patterning with Munchkin. Sometimes he says "wook mommy I made a pattern". He gets the idea of the two colors, but doesn't quite have the idea of patterning yet. He'll have lots of fun while we practice. He loves driving his little cars on wooden block roads.
He loves it even more if there is a tunnel to drive under.
While Munchkin drove on wooden block roads, I practiced in and out with Little Bear. I am super excited that he is finally putting items in and taking items out on command.
We used brown finger paint (chocolate pudding) to have some fun. I really focus on colors for Little Bear. Munchkin is very good at colors so we have started working on shades; light, dark, bright...etc.
They look like they're having fun here right? Not so much, about a minute after I snapped this shot, Little Bear realized there wasn't much more to eat so he started screaming. Please understand anyone who has heard his scream walks away with ringing ears. I'm pretty sure sometimes only the dogs can here him it's so high pitched. Simultaneously, Munchkin started asking for another pudding. When I declined he threw a fit that could have earned us a spot on Super Nanny. So basically we won't be doing this again for a while.
On Friday I decided to reorganize the storage closet where I keep our Tot School things. When I organize I typically pull everything out and place everything back in. I wanted Munchkin to be able to reach the activities and toys he's allowed to use and get the other items out of his reach. I found a roll of blue ribbon from
Munchkin's birthday party
(seems like forever ago). Little Bear enjoyed playing with it longer than I thought he would.
I usually only take out one learning toy or activity at a time so the boys were pretty excited and (I think) a tad bit overwhelmed at having everything out. It did give me an opportunity to do a bit of review and find a lot of things I forgot I had.
Join us next week for Vv is for Vegetables. Want to see some other fun Tot School Posts? Check them out
here
.