Little Bear is 16m
Munchkin is 35m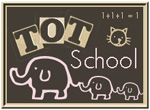 As you may have read, I really enjoy teaching my toddlers. I am a teacher by trade and at heart and it was only natural for me to continue with my own kiddos while staying at home with them. I come from a big family of teachers. One of my aunts who teaches at a special needs school has been donating tons of awesome school supplies and activities to me. She plans on retiring soon... and we like to keep it in the family... lol! Anyway, as she's been bringing the boys and I treats, I've done a horrible job of organizing them. They have been getting shoved onto this shelf or that... this closet or that one. Anyway, yesterday I got to work organizing my new things. What gets organized gets used!!
A while ago I read
1+1+1=1's
post on starting tot school, and I remembered her saying to basically inventory all of your educational toys and activities. This is where I began. It was a huge messy job as I had to pull everything out. This was the perfect nap time project.
I started by doing exactly what Carisa suggested. I inventoried everything by making 4 sections: reading, math, sensory, and fine motor. The serendipitous outcome of doing this, was I was really able to see how many activities I have for each section... I don't need anymore sensory things, and I'm lacking in the fine motor department.
The next thing I did was separate all my possible storage containers. I brought home so many baskets from my classroom, I could've opened my own container store.
Last I arranged the empty baskets onto the shelves I'd be using. I used the cabinets over my command center, and the utility closet under the stairs (yes... exactly where Harry Potter camped out!)
I keep my binders and other workbooks in the cabinet. I have a planning binder, an A-Z Letter Craft Binder, and A-Z Printable Activities (Although I think soon I will need to make that into two binders). I had to adjust my shelves so they'd fit better. I don't know why it took me so long to figure that out. I also keep office supplies, arts and craft supplies, and some other activities that aren't often used on the top shelves.
I then determined what I'd put on each shelf. Top shelf are craft and sensory activities. The wipes box holds Little Bears favorite activity which is dump the bottle caps out and put them back in through the slit.
Second shelf holds math tools,
third shelf holds all the reading/pre-writing materials,
and the bottom shelf is for some of the games and activities that I allow Munchkin and Little Bear to take out. I'm trying to encourage Independence, but with some control (I just can't let go all together). We have one rule (kind of) one thing out at a time!