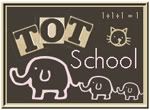 The week before last we did Rr is for Rainbows. We did lots of fun things including reading the story The Rainbow Fish (of course) then making cute rainbow fish out of coffee filters.
You'll Need:
A coffee filter
Washable markers
One wiggly eye
Glue
Tin foil
Water
Start by coloring patches of color all over your coffee filter. Use bright colors for best results (yellow doesn't show up well on the brown coffee filter). Once your coloring is complete use a spray bottle to wet your filter. I let Munchkin shake An old sippy cup full of water on the filter (this worked fine).
Once your filter is saturated the colors will begin to run together (I had to help it a bit with my finger). Let it dry completely. The colors will be much lighter. Cut it into the shape of a fish.
Then add scales with the tin foil. I put little dots of glue and let Munchkin add the tin foil. Last add the eye and draw a small mouth. Done. Aren't they cute?